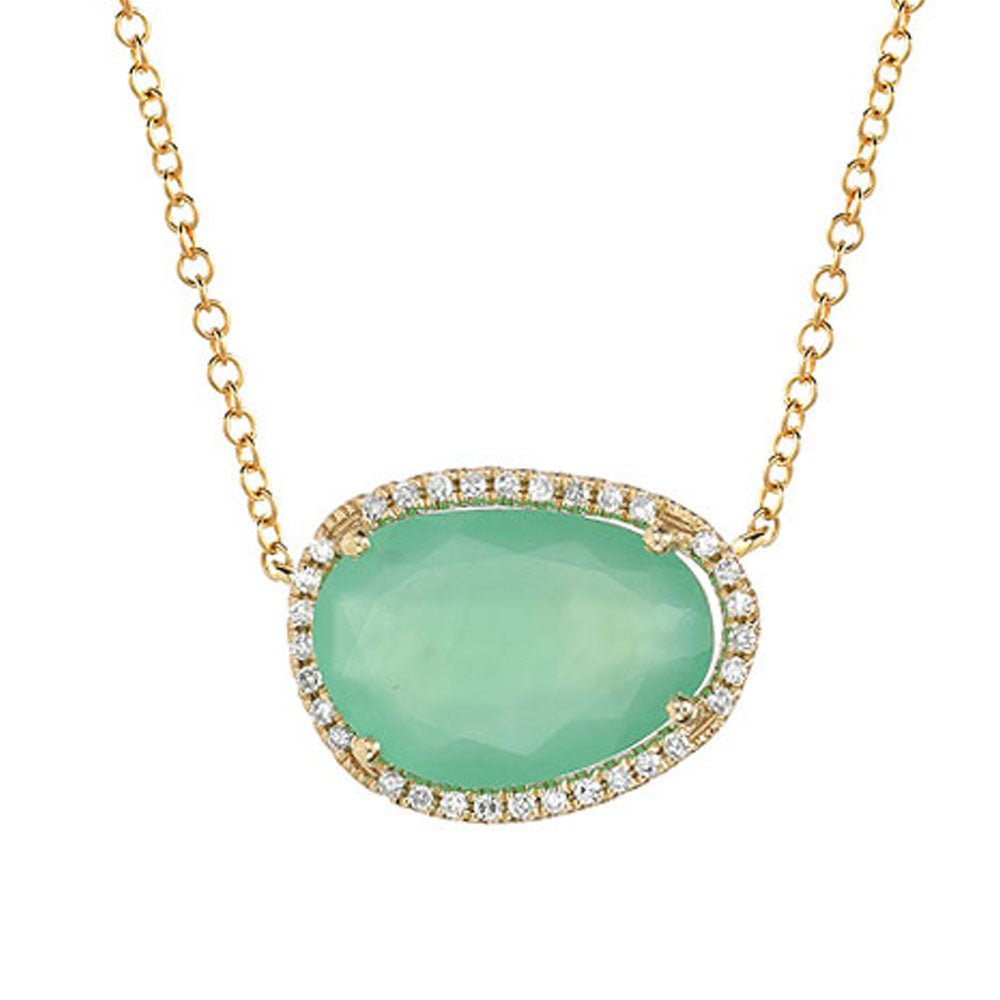 Organic Shape Chrysoprase & Diamond Necklace
$1,350.00
This 14k gold necklace features an organic shaped chrysoprase with a diamond halo, on a 16-18" adjustable chain. The flat face of this stone allows a glimpse into the heart of the stone; its softly glowing color and beautiful hand-cut facets. 
Please note that due to the unique nature of natural gemstones no two are ever completely alike, and your stones might appear slightly different than those used in featured images. Some color combinations may require a special order.
Each of these necklaces is made by hand, using an individually selected center stone. Here are a few of the top features:

Available in rose gold, yellow gold, and white gold, and a number of stone options are available - contact us for available options
16-18" adjustable chain length
Total approximate diamond weight: 0.09ct
Approximate dimensions of stone including diamond halo: 14mm x 10mm
Approximate chrysoprase weight: 3.14ct. As each necklace is unique, this may vary slightly
A perfect centerpiece for a layered necklace look
SKU: N0100663

We're thrilled to present an array of ethically-sourced, handcrafted diamond and gold jewelry. All of our diamonds are conflict free, and we use only the highest quality metals and techniques. This necklace is a stand-out in our collection, and makes the perfect addition to your jewelry collection –– or a gorgeous gift for someone special. For questions about the colored stone necklace, we invite you to contact us at (213) 293-6088, or reach us anytime via email at info@livenco.com.