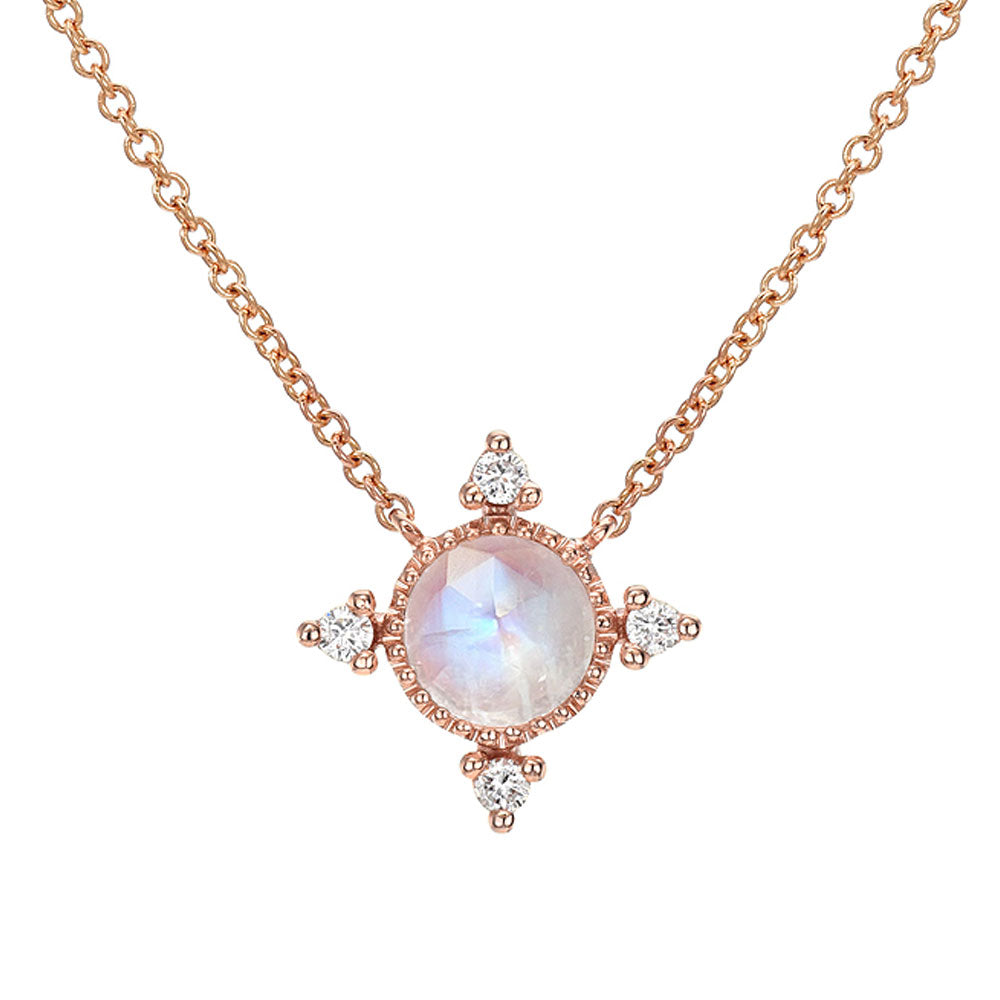 Compass Rainbow Moonstone Necklace
$898.00
Compasses are a powerful symbol of guidance, protection and direction, a potent reminder to stay focused and move forward along your own path. This beautiful necklace embodies the spirit of directional guidance, featuring a bezel setting with a 6mm diameter rose cut natural rainbow moonstone, finished with four beautiful prong-set diamonds to represent the cardinal directions. Simple, elegant, timeless and stylish, this subtle necklace is as stunning worn alone as it is as part of a layered look. This necklace makes a perfect gift for any transitional life event where guidance can come in handy; graduation, parenthood, career changes...or as a "just because" to keep the wearer grounded, protected and in motion.
Please note that due to the unique nature of natural gemstones no two are ever completely alike, and your stones might appear slightly different than those used in featured images.
From overall design to the smallest details, this rainbow moonstone necklace is exquisitely made, and reflects the very best of classic inspiration and contemporary craftsmanship. In addition to its remarkable visual appeal, here are just a few of our favorite features:

Natural rainbow moonstone gemstone means that each piece is unique
A perfect piece for everyday wear
Total colored stone weight: 0.48ct (ct. weight may vary due to the one of a kind nature of the stone)
Total diamond carat weight: 0.06ct
Available in your choice of rose gold, yellow gold, and white gold
16-18" adjustable chain in 14K gold. Can be produced in other stones; please reach out to us if you are interested in a custom style!
SKU: N0100713

We're thrilled to present an array of ethically-sourced, handcrafted diamond and gold jewelry with hand-selected colored stones. All of our diamonds are conflict free, and we use only the highest quality metals and techniques. This Compass Points necklace is a stand-out in our collection, and makes the perfect addition to your jewelry collection –– or a gorgeous gift for someone special. For questions about this rainbow moonstone and diamond necklace, we invite you to contact us at (213) 293-6088, or reach us anytime via email at info@livenco.com.